What is Custom Label of Site Retargeting
With Site Retargeting, you can display your ads to users (who have previously visited the site) by user group which meets some conditions to target.

The conditions for targeting can be based on the URL (or some text string of the URL) of pages where users visited, and also you can use the Custom label for Site Retargeting Tag.




What is Custom Label




The label is a sort of information on grouping pages of the site and can be helpful to display ads with Site Retargeting. You need to set up labels on your Site Retargeting Tags.



Note

Use this Custom label as optional setting, it's not compulsory for the settings. Setting and managing labels are provided to users who can utilize without any intensive support service.
< Sample Custom labels >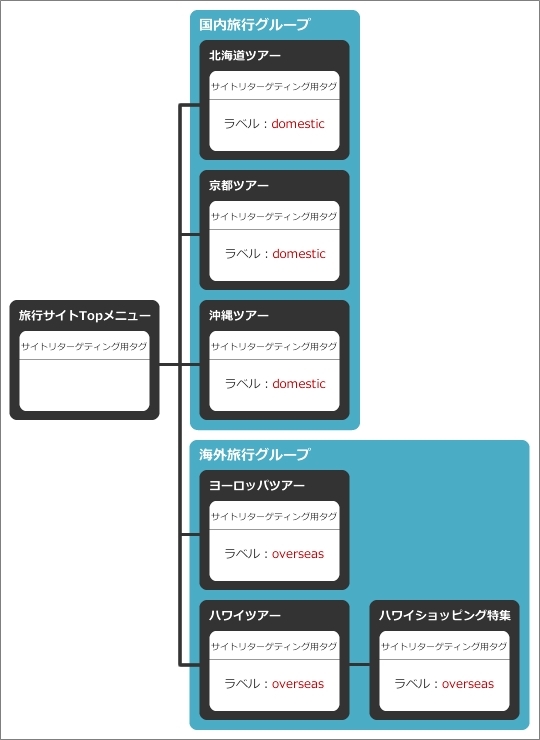 In this case of the travel information site above, it groups pages to 2 groups 'Domestic' and 'Overseas' with the labels on the Site Retargeting Tag.
With the organized grouping, the site owner can expect to sort and filter visitors of the site, as 'who have visited pages of Domestic' an as 'who have visited pages of Overseas'.
And it can be utlized to filter target users who browse ads displayed with Site Retargeting, for 'ads for domestic tour' and for 'ads for overseas travel'.
Tips

One label is available to be set for a Site Retargeting Tag per one page.
You can set an unique label name.
Up to 100characters is available for a label.
Only half-width alphanumerics and symbols below are available for labels.
*Available symbols :・-_.!~*'();/?:@&=+$,%#
< Sample Site Retargeting Tag for Custom label >
To set up Custom label, you need to revise the Site Retargeting Tag acquired on the Campaign Management Tool.
Please confirm how to revise your tags for Site Retargeting with the samples below which describes details in the case of the travel information site explained above.
[ The initial status of the Site Retargeting Tag acquired from the Campaign Management Tool ]
<Previous>

<New>


[ Sample to setup for Domestic Tour page ]
<Previous>

<New>

[ Sample to setup for Overseas Travel page ]
<Previous>


<New>


Acquire Site Retargeting Tag and Tagging on Site